This post probably contains affiliate links, to items I am in love with, and I am confident you will too! For any health advice I give on nutrition and wieghtloss, make sure you check with your doctor, as I am not a health professional. I am just a mama with lots of health and fitness knowledge and experience.
Deciding when your body is ready to workout postpartum isn't just up to your doctor, or the 6-week timeline. There are many other factors that play into whether your body is ready to start working out postpartum, especially if you are breastfeeding. In my program, I offer a workout plan based on being 6-weeks postpartum, as well as a safe workout routine for re-establishing core and pelvic floor muscles, so you will be rehabilitated for working out again.
Here are 5 questions to ask, when deciding to start your postpartum workout routine:
Did Your Doctor Approve?
I have to say this one because it is essential to as a medical professional on anything concerning postpartum healing and working out after baby. I am not a health professional, but I do know you can ask your doctor about working out prior to the 6-week mark. My doctor knew me very well, and after having three babies delivered by him, and completely healthy and fit pregnancies, he approved of my workout routine pre-6 weeks. All you need is their approval if you have any concerns or questions. I was sent home with a list of exercises to work on after delivery, so I knew there was an amount of working out encouraged for healing right after birth. If you didn't have any complications, excessive tearing, bones breaking or issues during pregnancy, you are most-likely free to begin low-impact, Pilates style workouts as soon as you feel ready.
Is The Pain Gone?
After most births, whether c-section or vaginal, there is some lingering pain. I personally recovered the quickest after my third baby, because I had the fittest pregnancy of all three, and no tearing. This helped me feel ready to workout much sooner than my other two. I knew which moves I could do, and which I should wait on because of pain. I felt pain in my pubic bone for a long time, and still do with certain moves, so I don't do them. If you are bleeding a lot, feeling super sore, on pain medication or struggling just to walk comfortably around the house, definitely wait.
Did You Have A Fit Pregnancy?
The more active you are during pregnancy, the quicker your body will recover and be ready to workout again. Many mamas lose strength and fitness during pregnancy because it is so difficult to workout with a huge belly, and the exhaustion that sets in. If you were able to stay fit, walk a lot, do body-weight workouts etc., your body will be ready to jump back into activity sooner, than if you hadn't. If you stopped workout all together during pregnancy, take things super slow. I have some great, easy workouts you can even do with baby to get you ready for a workout routine. Here's a great Pilates and cardio workout you can try, if you think you are ready!
Is Your Breast Milk Supply Established?
If you are breastfeeding, establishing your milk supply should be the first priority. Taking in quality nutrients and eating a breastfeeding-specific diet will really help you do this, and still lose weight without working out. Nutrition is the key to losing the weight, which is why I have my complete breastfeeding-focused diet plan, while workout out is going to maintain strength, tone your body, and help burn a few calories. Honestly, you won't be able to burn many calories first starting out, so focusing on your milk supply and nutrition will get you a lot farther.
Do You Have A Plan?
Having a postpartum workout plan is super important. Don't just jump around and find any video that looks good on Youtube. You want to plan for rehabilitating your core and pelvic floor first. Checking for signs of Diastasis Recti is a good idea, though it is difficult to tell early on in postpartum recovery because your muscles are slowly returning back to normal. By healing your core right away, you can help your muscles go back to close to normal, skipping and Diastasis Recti all together. You also want to re-engage and practice contracting and releasing your pelvic floor muscles. Without having a plan for this, you can end up losing weight, still having a pooch and constantly peeing your pants. Not a fun place to be! Here are some workouts I have in the program: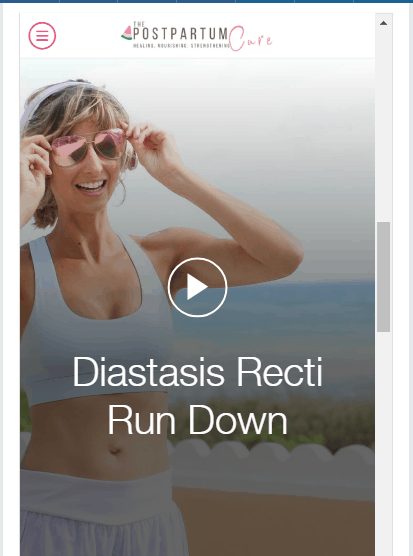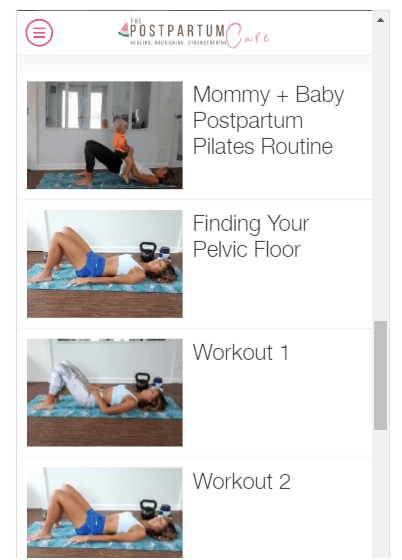 Hopefully you are healing fast, and ultimately getting used to life postpartum. It is exciting working out again, but I will never forget the feeling I had when I first went running again, after my first baby. Things can shock you postpartum, so take everything slow, enjoy your baby, and know that you can achieve a lot of health, wellness and healing through the proper diet and nutrition program.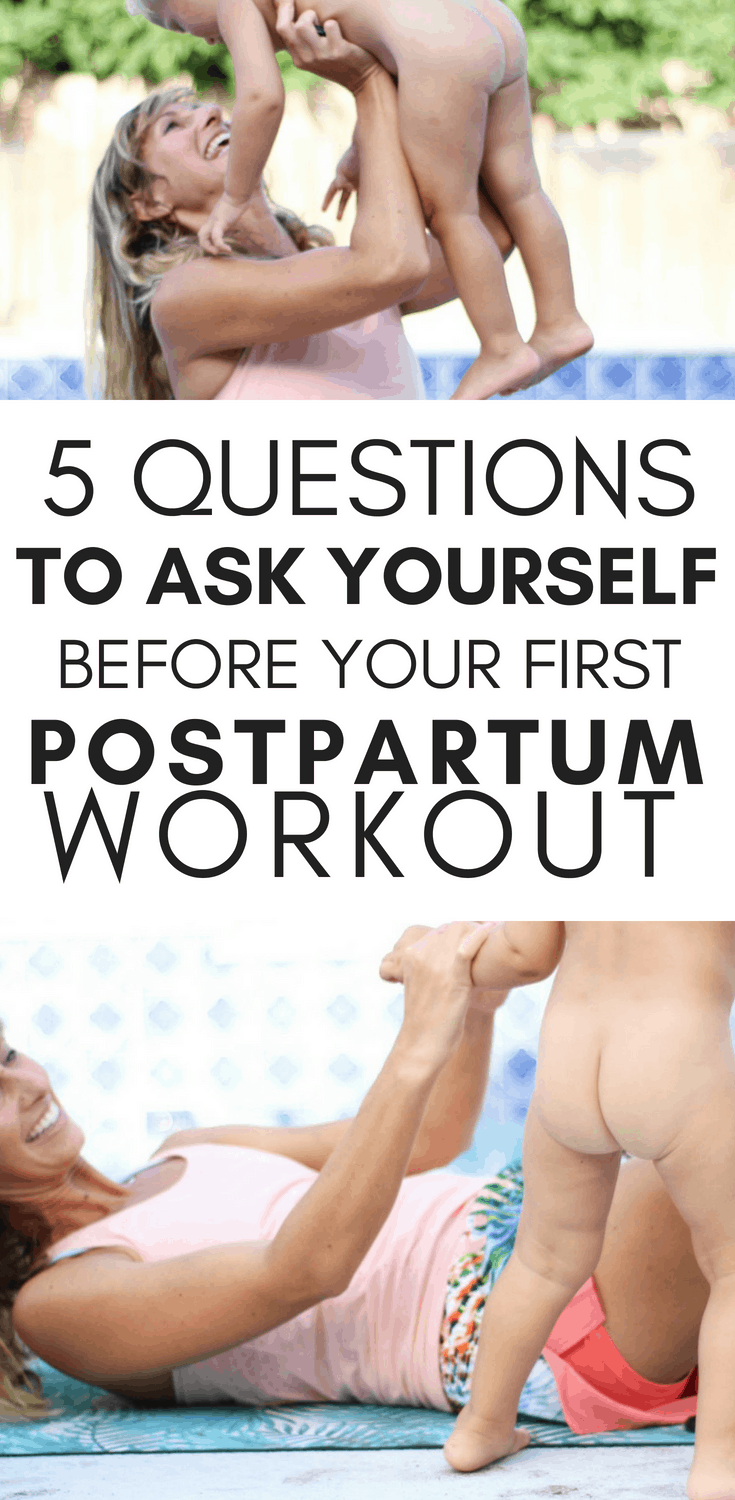 Get The FREE Diastasis Recti Exercises Cheat Sheet!
I have a very specialized program for postpartum mamas looking to lose weight, keep up their milk supply and heal their bodies. 
So many mamas are having such success with the program, and let me share what they've said:
"I'm on the 14 day clean eating part and already feel a change.  I love that your program caters to nursing moms. These recipes are boosting my milk supply! Thanks again and can't wait to use the new app!"
"As far as counting calories, yes that was so helpful!… it was an eye opener…But your concept of reducing ever so slightly and monitoring milk supply was so helpful! I have lost 6lbs-yay!- and have 12 more to go!  I am encouraged for sure because it is usually not until  I'm done nursing that I'm able to lose weight. So I'm all in for hopefully the rest of my life-on clean eating like this and exercise! Thanks so much for your help!!"
"Feeling GREAT on this program!!! It's unbelievable how eating clean makes such a difference. Let me rephrase that…it's amazing the difference eating nutrient dense foods makes! My skin is glowing and I'm already shedding pounds! I also tried the first workout today and did well although I had to modify a bit and omit the backwards burpee (I had cesarean just over a month ago and don't quite feel ready for that exercise just yet but I will get there). Loving this plan! Thank you SO MUCH for tour help!"
"The few changes I've made to diet per your instructions is already helping lower my sweet cravings. I'm sure I'll notice an even bigger difference when I get stricter. This week has been great as I feel better, have already lost 2#, and haven't seen a drop in milk supply which was my biggest concern. I look forward to starting the workouts tonight!"
"The baby steps have been super helpful including writing down everything I ate…Another 5 days would be amazing, I was thinking yesterday what am I going to do after the 5 days are finished. You have been incredibly helpful!! I am so appreciative!!!"
My program focuses on specialized nutrition for breastfeeding moms, recipes, meal plans, grocery lists, a new Ab Rehab + Pelvic Floor Restore program, and a new section on going back to work after baby coming soon!
There are now two prices! One with the app, one without for two options! grab it now, while it is super affordable!