This post probably contains affiliate links, to items I am in love with, and I am confident you will too! For any health advice I give on nutrition and wieghtloss, make sure you check with your doctor, as I am not a health professional. I am just a mama with lots of health and fitness knowledge and experience.
I've finally gotten smart, and learned 4 ways you can prepare for postpartum recovery.  The postpartum recovery phase can be shocking and scary if you aren't prepared for the messy details that are included with your new little bundle. After three babies, I can tell you four things that will help you recover, and ultimately survive and thrive in the fourth trimester. If you properly prepare for everything that happens after you have a baby, you can emotionally, mentally and physically deal with all the difficulties, knowing exactly what is going on, rather than feeling like you jumped into a lake, and are barely keeping your head above water.
Let's go over 4 smart things you can do, to prepare and handle postpartum recovery:
Do a Postpartum Recovery Plan:
With my first two pregnancies, I did not do this. Bad decision. My first two are only 18 months apart, and because I didn't even attempt to really heal my abs or pelvic floor once I have birth to my first, I got pregnant with my second and developed a small umbilical hernia. I believe this is because my abs were weak and stretched from the first, which then created a perfect scenario for a hernia to develop with my second. I really thought my muscles would recover quickly on their own because I was fit, young and healthy. I didn't know how important a recovery plan can be. I actually lost all the weight no problem, and kept up a healthy milk supply because nutrition and nutrients are very important to me. But, the recovery portion for my core and pelvic floor didn't happen. With my third, I tapped into my Pilates knowledge and worked on strengthening my abs and pelvic floor gently. This made a big difference in getting back into a fitness routine too. I wasn't so giggly and out of shape. I had maintained important muscles! Such a difference from my first two. I created a very specific recovery program for postpartum, breastfeeding mamas that covers everything. Nutrition, healing, strengthening and ultimately finding your fitness again. All of it is so important, and there aren't any programs out there that really cover it ALL! Most are just weight loss programs. This is much more, and I am so happy I created this program, and so many mamas are not just losing weight, but nourishing and strengthening their bodies too!
Educate Yourself On Breastfeeding:
Breastfeeding can seriously be a breeze if you know what you are doing. If you understand everything that is going on, you will feel so much better!! This amazing resource literally teaches so much, and I learned a ton, which will ease your mind and frustrations. By understanding what breast milk is made of, learning how much to breastfeed, what is normal, and more, you won't have to sit their wondering if you are doing things right. What really eased my mind was knowing I can feed my baby as much as I want. I was at first embarrassed at how much I breastfed. Especially in the night and throughout the day. I didn't have a schedule, and I just let my babies feed whenever they wanted. Turns out, this is FABULOUS for your supply and great for baby. I learned that here, and it really gave me so much confidence in myself, because I naturally was making a great decision…you know that feeling when your instincts are validated?? Makes you feel like you know what you are doing as a mom, at least in one moment!
Don't Worry About Sleep:
Letting go of "needing sleep," was a GAME CHANGER for me. Seriously, if you ignore any thoughts like, "I only slept 2 hours, then was awake for 5…then slept for 30 minutes.." it will release you of so much pressure to feel tired. I never counted hours or fixated on whether I slept or not. I got up each day pretending I slept as much as I needed. The lack of sleep is a season, and you will be just fine. Life isn't perfect, and your sleep hours won't be perfect for a while now. Just let it go. Embrace every day no matter how you slept. Some days, if you physically know you are exhausted because your body just doesn't want to move and you can barely keep your eyes open…take a nap. There will be good days and bad days. I never worried about it. I gave my body extra sleep during the day if I felt I needed it, and I didn't obsess with the sleep I got in the night. Wake up, be happy and put one foot in front of the other! If you can train your brain to work this way, it will really set you free.
Splurge on Shortcuts:
What I mean by this is use things like a grocery delivery service, order take out (healthy options!), get a monthly diaper and wipes subscription (FREE TRIAL HERE), and shop online. Sometimes, with the deals today, this doesn't even cost much more, and when you think of all the time and energy to get to the store with a new baby, it is SO WORTH IT. Grab Amazon Prime (try it free!!), and you will be able to get almost anything you need within two days. Take advantage of subscriptions and grocery delivery apps, or Starbucks mobile order. Heck, hire for some cleaning/home help too! Postpartum life is not smooth sailing, but you can set yourself up for a smoother home life with little shortcuts.
By doing all four of these things, you can fully manage postpartum life whether it is your first or third baby. Life can be very difficult with a new baby, especially if it is your first one. Learn from my mistakes, and find a postpartum recovery program! Many of the mamas in the programs are moms who are on their third, fourth or fifth babies because they've learned the hard way how important it is to start the recovery process from the beginning!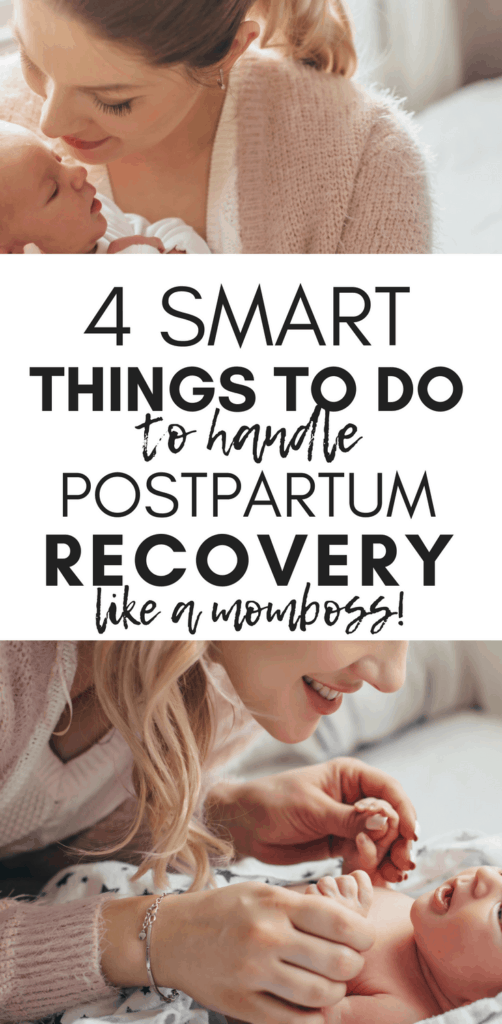 Get The FREE Diastasis Recti Exercises Cheat Sheet!
I have a very specialized program for postpartum mamas looking to lose weight, keep up their milk supply and heal their bodies. 
So many mamas are having such success with the program, and let me share what they've said:
"I'm on the 14 day clean eating part and already feel a change.  I love that your program caters to nursing moms. These recipes are boosting my milk supply! Thanks again and can't wait to use the new app!"
"As far as counting calories, yes that was so helpful!… it was an eye opener…But your concept of reducing ever so slightly and monitoring milk supply was so helpful! I have lost 6lbs-yay!- and have 12 more to go!  I am encouraged for sure because it is usually not until  I'm done nursing that I'm able to lose weight. So I'm all in for hopefully the rest of my life-on clean eating like this and exercise! Thanks so much for your help!!"
"Feeling GREAT on this program!!! It's unbelievable how eating clean makes such a difference. Let me rephrase that…it's amazing the difference eating nutrient dense foods makes! My skin is glowing and I'm already shedding pounds! I also tried the first workout today and did well although I had to modify a bit and omit the backwards burpee (I had cesarean just over a month ago and don't quite feel ready for that exercise just yet but I will get there). Loving this plan! Thank you SO MUCH for tour help!"
"The few changes I've made to diet per your instructions is already helping lower my sweet cravings. I'm sure I'll notice an even bigger difference when I get stricter. This week has been great as I feel better, have already lost 2#, and haven't seen a drop in milk supply which was my biggest concern. I look forward to starting the workouts tonight!"
"The baby steps have been super helpful including writing down everything I ate…Another 5 days would be amazing, I was thinking yesterday what am I going to do after the 5 days are finished. You have been incredibly helpful!! I am so appreciative!!!"
My program focuses on specialized nutrition for breastfeeding moms, recipes, meal plans, grocery lists, a new Ab Rehab + Pelvic Floor Restore program, and a new section on going back to work after baby coming soon!
There are now two prices! One with the app, one without for two options! grab it now, while it is super affordable!