This post probably contains affiliate links, to items I am in love with, and I am confident you will too! For any health advice I give on nutrition and wieghtloss, make sure you check with your doctor, as I am not a health professional. I am just a mama with lots of health and fitness knowledge and experience.
I created a very unique, specialized breastfeeding diet plan for postpartum mamas looking to lose the baby weight, not their milk. I wanted to share 5 tips on creating a breastfeeding diet plan, so you can try to customize your own, independent breastfeeding diet plan at home.
I am so passionate about my breastfeeding diet plan, which is much more than a postpartum weight loss program, and it covers true nourishment for breastfeeding mamas wanting to protect their milk supply while losing the baby weight. It is a program and breastfeeding diet app that will enable new mamas to safely lose the baby weight, while nourishing their bodies properly for breastfeeding. Being a mom of three, I've learned the incredible importance to properly nourishing your body with the right foods to keep your milk supply up while losing the baby weight. I created this program to be tremendously more than a breastfeeding diet plan. It is a full recovery and fitness program with meals and recipes specifically designed to help you lose weight and keep your milk supply up.  I also have an app for the program, which you can check out on Google Play (iOS coming soon!!), to make navigating the program so easy!!
I've also learned the importance of postpartum recovery for your core and pelvic floor. This program includes specific exercises to walk you through protecting and rehabilitating your core and pelvic floor after baby. I made the mistake of losing the baby weight, while keeping up my milk supply, but not giving my muscles the attention they needed to recover properly. I ended up with a small umbilical hernia because I never worked on my core post-baby one or two.
If you are currently pregnant, or a new mama ready to jump on a breastfeeding diet plan, let's go over 5 important tips to make sure your breastfeeding diet plan, whether you chose a plan or establish your own, is on point:
No Restrictions On Meals/Snacks: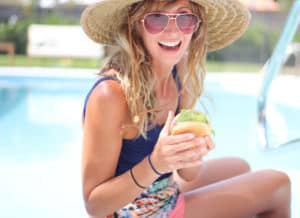 this turkey burger is in my program, MY FAVORITE!!
This is really important for nursing mamas, because hungry and low-blood sugar can come on quick. In my program, there is a general guideline on what to eat for breakfast, lunch and dinner, and even a complete plan for 20 days if that works well for you, but your diet plan should never be completely reliant on sticking to only three meals. For example, your milk supply demand changes as baby grows. This means your nutrient needs changes. Having things too strict can make it difficult to adapt to the needs of you and your baby. Calorie numbers are important for weight loss, and I go over how to safely count and reduce calories in my program. Some days you may need an extra snack, which is fine in my opinion. But, the type of snack you choose is very important.  Here's what one mama said about my program:
As far as counting calories, yes that was so helpful!… it was an eye opener…But your concept of reducing… and monitoring milk supply was so helpful! I have lost 6lbs-yay!- and have 12 more to go!  I am encouraged for sure because it is usually not until  I'm done nursing that I'm able to lose weight. So I'm all in for hopefully the rest of my life-on clean eating like this and exercise! Thanks so much for your help!!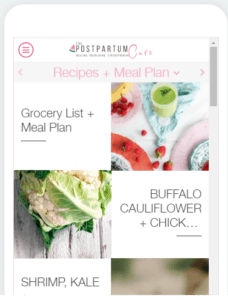 Focus on Clean Eating:
This in itself makes a HUGE difference. By cleaning up your diet, you are filling your body with nutrient-dense foods. By cleaning up your diet and focusing on fruits, vegetables, lean meats and high-nutrient carbs, you are giving your body fuel it can process. Your body will feel safe and allow itself to let go of fat. Without the nutrients it needs, it will not want to let go of fat, being unsure what kind of processed chemicals it will have to digest next.
I'm on the 14 day clean eating part and already feel a change.  I love that your program caters to nursing moms. These recipes are boosting my milk supply! Thanks again and can't wait to use the new app!
Practice Intuition, Not Regimen:
What is amazing, is after taking out processed food, high sugar foods and chemicals, your body will learn to que you for hunger, rather than an actual addiction craving. That is a HUGE transformation process that can be uncomfortable, but so worth it. Your body gets addicted to the sugars and chemicals, so it will confuse you with hunger and headaches to get more. After cleaning things up, you will realize when you are actually just tired, or in need of food. Never eat breakfast just because you are supposed to. I believe in eating when your body tells you to eat. Your body is so smart, and it will tell you when it is ready for food. Work on felling that out, and distract yourself if you are bored.
Never Forget Water: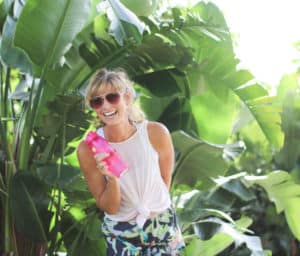 Sip on water all day. It is better to be using the bathroom all the time, than be dehydrated. Breast milk requires water as well as nutrients, so you can help yourself out by drinking tons. It will also help with losing the water weight from pregnancy. Your body will have plenty of liquid to flush the stored water to your breast milk, and sweat the rest out. Did anyone else get night sweats for the first month or so after baby??
Remember DHA:
I talk about supplements and vitamins that are super important and helpful for your breast milk supply, and whether you are following a breastfeeding diet plan, or creating your own, you want to make sure you are getting in some healthy DHA. I really like this one, but you can take it as a supplement, or get your weekly salmon in. I have a great mustard salmon recipe in the program! DHA is super important because that type of fat actually gets into your breast milk, and to baby, which is needed for brain development. Not all things pass into breast milk, but DHA does!
There you have 5 tips to creating your own breastfeeding diet plan, to help you lose the baby weight and keep your milk supply up. It can be very difficult to stick to a plan, without the support and help from others, which is why we also have a member-lead Facebook group that is private to only members of the program.
I am SO EXCITED to share that I am launching Milk Dust, the only protein powder that pumps up your milk supply with a special lactation blend, while also curbing sugar cravings!! There is no other clean, super nutrient-dense protein powders like this, and I would love for you to sign up for the pre sale lists, where I am offering the first batch at a discount!! PRE-SALE HAPPENING TODAY + BLACK FRIDAY ONLY!! GRAB IT NOW FOR THE HIGHEST DISCOUNT!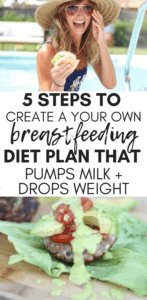 If you need help losing the baby weight and keeping up your milk supply, I have a very popular program, The Postpartum Cure, which comes in an app you can download. This program has helped hundreds of women lose their baby weight, while also keeping up their milk supply. It can be done!
Get more details and see what other mamas are saying!