This post probably contains affiliate links, to items I am in love with, and I am confident you will too! For any health advice I give on nutrition and wieghtloss, make sure you check with your doctor, as I am not a health professional. I am just a mama with lots of health and fitness knowledge and experience.
Eating clean is not easy, especially when it is a big lifestyle change. I have a 14-day, eating clean challenge specifically for postpartum mamas. Eating clean with a baby in tow (and other little ones too!) is NOT AN EASY TASK. Literally, if you can manage to eat clean for two weeks with kids and babies, let me just give you a virtual rock star high five. I've come up with some ways to make eating clean much easier, and I hope it helps you, especially if you decide to try the challenge! I also have tons of great healing recipe, nutritional knowledge, pelvic floor and core healing, and fitness information in my Postpartum Cure program if you need it all. Meaning, you need your tummy put back together and the extra weight gone!
Anyways, let's get into these awesome tips to make eating clean 1 million times better: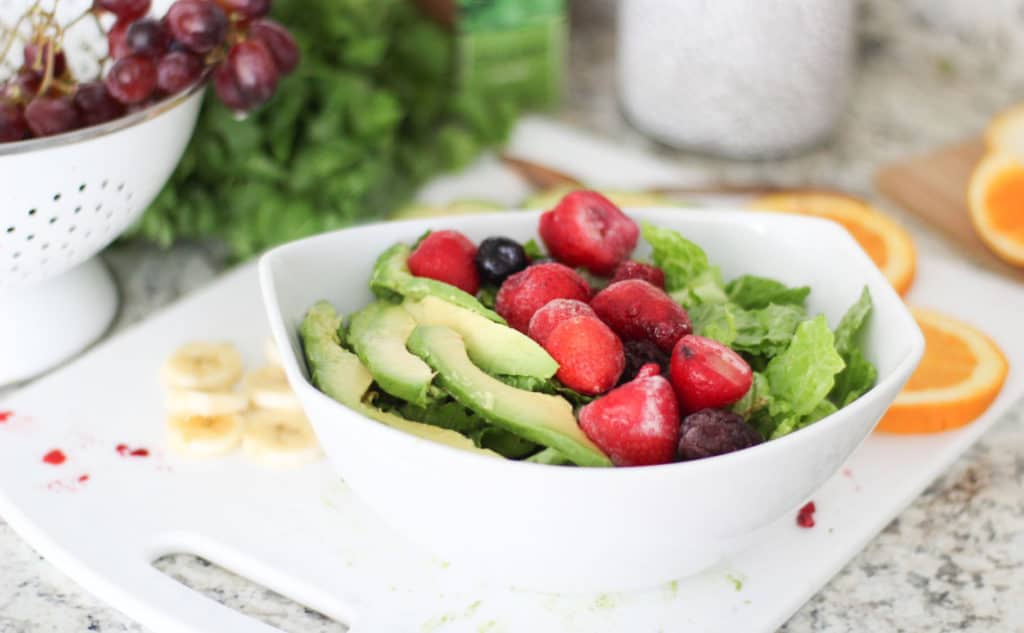 Sea Salt, Garlic and Spicey:
Lay on the seasonings! This will keep your taste buds happy, especially when they are missing their processed friends. You can season your salad, which makes them so much better! I actually never knew people did this, until I went to Norway and learned they don't use salad dressing. They cut up a bunch of peppers, onions, corn and lettuce, season with salt and pepper and eat it. I was in shock, but gave it a chance. Since then, I've learned to use garlic salt, red pepper, sea salt, and other seasonings to spice up my salad. It makes a HUGE difference when you are limited to olive oil and balsamic vinegar. Literally season everything heavily as you get used to eating cleaner, and it will eliminate those cravings for other foods.
Chocolate Protein Shakes:
I talk about this protein powder for breastfeeding mamas in the challenge, and I highly recommend it whether you are pregnant or breastfeeding because it is super clean and full of amazing nutrients. Salads get old. Avocados get old, but smoothies? Those are a different story! I personally love this vanilla protein powder, blended with a frozen banana and a 1/4 cup or so of cocoa powder. I think the added cocoa powder is better than the chocolate protein powder. This is basically a small dessert, and you can change up your protein shakes so easily, it requires no prep, you can do it one-handed and there's a ton of nutrition if you choose the right protein powder.
These are actually in the protein powder I love, but it may not be enough if you aren't used to eating healthy. Switching your diet to eating more plants and protein is going to be a shock to your digestive system. I highly recommend these little guys to help keep you from getting gassy, and being totally embarrassed. I have had issues with IBS in the past, and these guys, plus a great probiotic to feed your gut with good bacteria, and you will be processing all these healthy foods much easier.
These are super helpful with digestion, especially as you switch over to healthier food. The other great part is that your new, cleaner diet is a better environment to keep the good bacteria alive and thriving. This will kill off the bad bacteria, which causes the gas, bloating and digestive issues that aren't fun, so you can have a flatter tummy, and be more comfortable while eating high-fiber and higher protein foods.
Fruit Infused Water/Sparkling Water:
Not sure about you, but plain water gets old in my book. I grabbed one of these super cute, fruit infused cups, where you just add some fruit to the middle, and you can flavor your water with whatever you need. I also get pure, carbonated water with no salt or chemicals that I infuse with fruit. There is something about carbonation for me. I really enjoy the bubbles. It also helps me keep liquids down, which is key when you are first starting to eat clean because you need the liquid to help you detox some of the icky out.
There you have 5 ways to ease your transition into eating clean. It really can be tough the first week, so if you are feeling like it is hard, it is!! Don't let people fool you into thinking it is super easy to totally change your eating habits. It takes work, and sometimes your body has a hard time adjusting!
Do you have any tips and tricks to add? Leave them in the comments!
If you need help losing the baby weight and keeping up your milk supply, I have a very popular program, The Postpartum Cure, which comes in an app you can download.
I am now offering personalized nutrition coaching for new mommies needing a bit more attention than a general program. I only take limited clients, get more information here!
Postpartum Nutrition Coaching